Curious about cryptocurrency investment?
You've come to the right place
Get Your FREE Guide:
"The 5 Golden Rules Of Successful Cryptocurrency Investment."
when you sign up to receive my newsletter and receive special offers.
GET PAID IN CRYPTOCURRENCY FOR YOUR INTERNET SEARCHES || PRESERVE YOUR SEARCH PRIVACY || AVOID CENSORSHIP
Check the latest cryptocurrency prices
[ccpw id="40522861″]
Why are more and more people seeing the benefits of storing wealth in cryptos?
As A Hedge Against Inflation (6.8% in US 2021)
As A High-Growth Investment.

(Bitcoin value: +350% in 2020 and +200% in 2021)

As A Diversified Investment.
Hi, I'm Paul and I've helped dozens of people successfully invest in self-managed cryptocurrencies.
Here's what some of my customers have said about me..
Paul first mentioned Bitcoin in 2013. I was sceptical but curious. He told me that he could assist me if I ever thought about investing and so In 2019 I asked him to help me put €2,000 into Bitcoin plus a couple of other small projects that he was investing in. 18 months later my stash was worth €12,000! (600%) so I took out profits of €4K and left the rest in play. I wouldn't have dreamed of making such a move without Paul's expert guidance.
Vince m.
I've never invested in the Stock Market because it seems to only work for people with lots of money. Paul piqued my interest in Bitcoin and Ethereum as they rose in value over the years so one day I asked him to give me more information . He suggested that I do a little bit of research on a few projects that looked like having good potential.
He walked me through his process and track record and then helped me to buy a range of 5 different coins each with a different risk-reward profile. In 18 months they had grown to between 4X to 10X+ their initial offering. I put in €1,750 which turned into nearly €8,750, giving me a return of 500%. I eventually sold my initial stake, which left 4 times my initial investment on the table. If there's anything I need to know about crypto investment, Paul is my first point of contact.
mark l.
I hadn't understood the growth potential of cryptocurrencies until Paul explained it to me. With his guidance I made my first Bitcoin investment and then four years later I had a stake worth 4 times my original amount. Today, Paul is helping me to learn more about alternative ("altcoin") investments. He has always been so helpful that I would recommend him to anyone who's interested or curious about cryptocurrency investment. I can't thank him enough.
donal f.
NEW!
Free eBook
Sign Up to get your free eBook "How To Avoid Ever Getting Scammed*" sent to your inbox. (Note: This is currently on pre-order.)
* Do you want a 100% guaranteed way to avoid getting scammed? Unfortunately such a thing doesn't exist. However, the principles in this publication will help you to reduce the likelihood down towards zero.
Get Your
Free eBook
Sign Up to get your free eBook on "The 5 Golden Rules Of Successful Cryptocurrency Investment" sent straight to your inbox.
Are you curious but hesitant about cryptocurrency investment?
[tcb-script type="text/javascript"] /*<![CDATA[*/ (function () { var scriptURL = 'https://sdks.shopifycdn.com/buy-button/latest/buy-button-storefront.min.js'; if (window.ShopifyBuy) { if (window.ShopifyBuy.UI) { ShopifyBuyInit(); } else { loadScript(); } } else { loadScript(); } function loadScript() { var script = document.createElement('script'); script.async = true; script.src = scriptURL; (document.getElementsByTagName('head')[0] || document.getElementsByTagName('body')[0]).appendChild(script); script.onload = ShopifyBuyInit; } function ShopifyBuyInit() { var client = ShopifyBuy.buildClient({ domain: 'cryptobankr.myshopify.com', storefrontAccessToken: '077d5c3d2eb36eba839dd7cafb2f1de2', }); ShopifyBuy.UI.onReady(client).then(function (ui) { ui.createComponent('product', { id: '7597311164663', node: document.getElementById('product-component-1650655257466'), moneyFormat: '%E2%82%AC%7B%7Bamount_with_comma_separator%7D%7D', options: { "product": { "styles": { "product": { "@media (min-width: 601px)": { "max-width": "calc(25% – 20px)", "margin-left": "20px", "margin-bottom": "50px" } } }, "text": { "button": "Add to cart" } }, "productSet": { "styles": { "products": { "@media (min-width: 601px)": { "margin-left": "-20px" } } } }, "modalProduct": { "contents": { "img": false, "imgWithCarousel": true, "button": false, "buttonWithQuantity": true }, "styles": { "product": { "@media (min-width: 601px)": { "max-width": "100%", "margin-left": "0px", "margin-bottom": "0px" } } }, "text": { "button": "Add to cart" } }, "option": {}, "cart": { "text": { "total": "Subtotal", "button": "Checkout" } }, "toggle": {} }, }); }); } })(); /*]]>*/ [/tcb-script] [tcb-script type="text/javascript"] /*<![CDATA[*/ (function () { var scriptURL = 'https://sdks.shopifycdn.com/buy-button/latest/buy-button-storefront.min.js'; if (window.ShopifyBuy) { if (window.ShopifyBuy.UI) { ShopifyBuyInit(); } else { loadScript(); } } else { loadScript(); } function loadScript() { var script = document.createElement('script'); script.async = true; script.src = scriptURL; (document.getElementsByTagName('head')[0] || document.getElementsByTagName('body')[0]).appendChild(script); script.onload = ShopifyBuyInit; } function ShopifyBuyInit() { var client = ShopifyBuy.buildClient({ domain: 'cryptobankr.myshopify.com', storefrontAccessToken: '077d5c3d2eb36eba839dd7cafb2f1de2', }); ShopifyBuy.UI.onReady(client).then(function (ui) { ui.createComponent('product', { id: '7597311164663', node: document.getElementById('product-component-1650660115499'), moneyFormat: '%E2%82%AC%7B%7Bamount_with_comma_separator%7D%7D', options: { "product": { "styles": { "product": { "@media (min-width: 601px)": { "max-width": "100%", "margin-left": "0", "margin-bottom": "50px" }, "text-align": "left" }, "title": { "font-size": "26px" }, "price": { "font-size": "18px" }, "compareAt": { "font-size": "15.299999999999999px" }, "unitPrice": { "font-size": "15.299999999999999px" } }, "layout": "horizontal", "contents": { "img": false, "imgWithCarousel": true, "description": true }, "width": "100%", "text": { "button": "Add to cart" } }, "productSet": { "styles": { "products": { "@media (min-width: 601px)": { "margin-left": "-20px" } } } }, "modalProduct": { "contents": { "img": false, "imgWithCarousel": true, "button": false, "buttonWithQuantity": true }, "styles": { "product": { "@media (min-width: 601px)": { "max-width": "100%", "margin-left": "0px", "margin-bottom": "0px" } }, "title": { "font-family": "Helvetica Neue, sans-serif", "font-weight": "bold", "font-size": "26px", "color": "#4c4c4c" }, "price": { "font-family": "Helvetica Neue, sans-serif", "font-weight": "normal", "font-size": "18px", "color": "#4c4c4c" }, "compareAt": { "font-family": "Helvetica Neue, sans-serif", "font-weight": "normal", "font-size": "15.299999999999999px", "color": "#4c4c4c" }, "unitPrice": { "font-family": "Helvetica Neue, sans-serif", "font-weight": "normal", "font-size": "15.299999999999999px", "color": "#4c4c4c" } }, "text": { "button": "Add to cart" } }, "option": {}, "cart": { "text": { "total": "Subtotal", "button": "Checkout" } }, "toggle": {} }, }); }); } })(); /*]]>*/ [/tcb-script]
SIGN UP FOR MY NEWSLETTER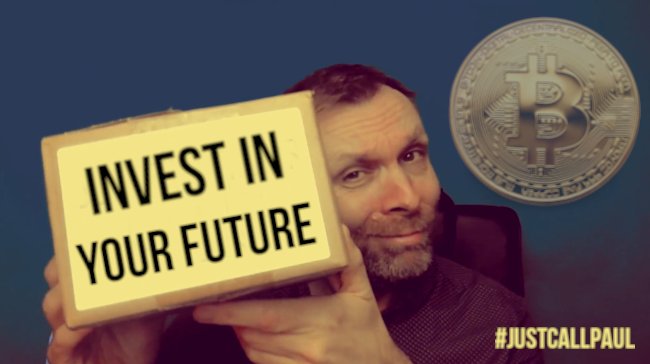 Enter your email address to subscribe to Paul James Lee's Crypto News Updates Provide your email address to subscribe. For e.g abc@xyz.com
I agree to receive your newsletters and accept the data privacy statement.
You may unsubscribe at any time using the link in our newsletter.
We use Sendinblue as our marketing platform. By Clicking below to submit this form, you acknowledge that the information you provided will be transferred to Sendinblue for processing in accordance with their terms of use
SUBSCRIBE
BOOK A FREE 15 MINUTE EXPLORATORY ZOOM CALL
Discuss your interest in finding out more about cryptocurrency investment. Ask me anything!
CONTACT ME